Chocolate Chip Ice Cream Bites
Quite Easy
What better way to enjoy the few short glorious months of UK summer than with these Chocolate Chip Ice Cream Bites. Make up a batch in less than 20 minutes and stash away in the freezer for when the sun shines. We've used chocolate chip cookies but most biscuits would work just as well.
Nutrition and allergy information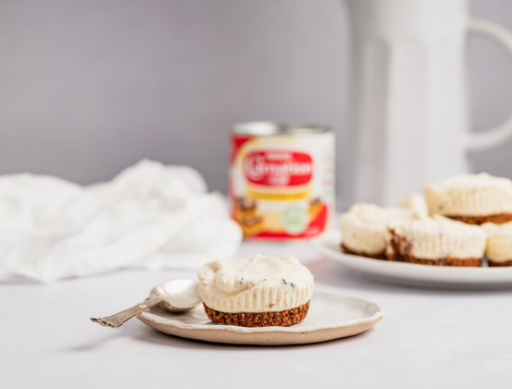 So easy to make and absolutely delicious. Best ice cream I've eaten in a long time. Everyone in the familly loves it!
---
Chocolate chip cookies, crushed 
Buttery baking spread, melted
Chocolate chip cookies, broken into pieces
12-hole cupcake tin lined with paper cases
Step 1 of 6
For the base: tip the cookies into a food processor and pulse to a fine crumb. Decant the crumbs into a large bowl, add the melted butter and mix until it looks like wet sand.
Step 2 of 6
Divide the mixture between the paper cases, pressing it firmly into the bases. Pop into the fridge to set.
Step 3 of 6
For the ice cream: pour the cream, vanilla and condensed milk into a bowl and using an electric hand whisk, mix until the mixture forms soft peaks.
Step 4 of 6
Pulse the remaining cookies in a food processor until they resemble a chunky crumb and gently fold through the ice cream mix.
Step 5 of 6
Spoon the mixture evenly over the chocolate cookie bases, then freeze for at least 3 hours or overnight until solid.
Step 6 of 6
Just before serving, remove the ice cream bites from the freezer and peel off the paper cases. Enjoy!
Have you tried making this delicious recipe yet?
Let us know by reviewing it below