Kheer Jewelled with Dried Fruit
Quite Easy
Sample the taste of a traditional Indian pudding with our Kheer Jewelled with Dried Fruit recipe. This is a rice pudding flavoured with rose, cardamom and saffron with delicious dried fruits, pistachios and almonds. Made in just 2 simple steps, this tasty sweet Kheer recipe makes a simple, but satisfying Diwali treat.
Nutrition and allergy information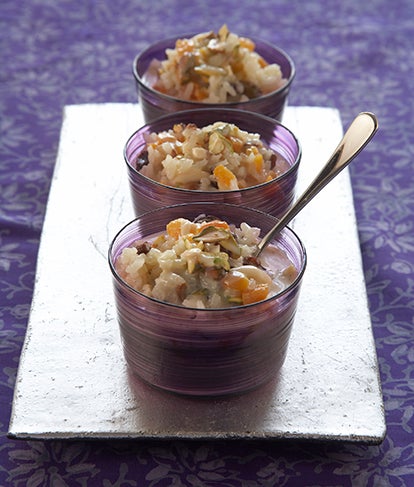 Be the first to review this recipe!
---
Step 1 of 2
Soak the dried fruits in a little hot water, making sure that it covers them. Meanwhile place the rice in a pan with the rose water, saffron, cardamom and 600ml water, heat gently and bring to the boil. Simmer very gently for 20 minutes.
Step 2 of 2
Add the dried fruits and soaking water. Pour the condensed milk into the pan and heat for a further 10 minutes, stirring continuously. Add the almonds and chopped pistachios and take off the heat. Serve warm, finished with chopped pistachio.
Have you tried making this delicious recipe yet?
Let us know by reviewing it below