Quite Easy
A pinch of spice and all things nice, our Cinnamon Buns recipe is the perfect snack. They taste best when they're warm, so we recommend grabbing one straight out the oven for the ultimate treat. Best enjoyed with a cup of tea or as part of a special breakfast, but this Cinnamon Buns recipe tastes so good, the buns won't hang around for long!
Nutrition and allergy information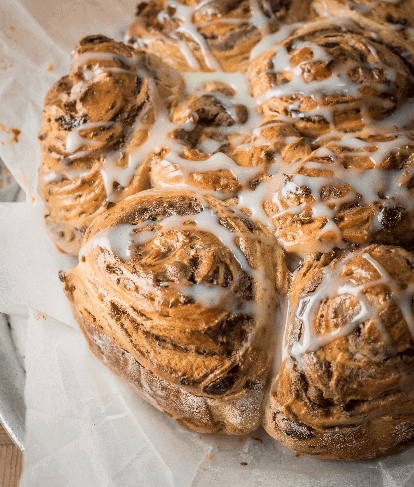 Be the first to review this recipe!
---
You will also need...
A lined baking tray.
Step 1 of 4
Crack the egg into a small bowl and add the evaporated milk, whisk together with a fork. Pour the bread mix and raisins into a large bowl and make a well in the centre. Slowly add the egg mixture whilst stirring with a fork. When the mixture becomes too stiff to stir, use your hands to bring it together into a soft dough. Tip onto a floured surface and knead for about 5 minutes until smooth and elastic.
Step 2 of 4
The next part of our cinnamon bun recipe is easy – just sit back and relax and make a cuppa! 
Place the dough back into the bowl and cover with cling film, leave in a warm spot to prove for 1 hour or until the dough has doubled in size.
Step 3 of 4
Preheat the oven to 200°C (180°C for fan ovens) Gas mark 6. Mix the cinnamon, all spice and 70g condensed milk together into a smooth paste. Tip the proved dough onto a floured surface and roll into a large rectangle about 1cm thick. Spread the spice paste evenly over the dough and then roll-up tightly into a log.
Step 4 of 4
Cut the log into 12 slices and then place into a lined baking tray with the swirls facing up. Leave the buns to rest for 20 minutes before placing in the middle of the pre-heated oven for 25 minutes. Remove from the oven and drizzle with the remaining condensed milk whilst still warm.
Add an extra dimension of flavour to this Cinnamon Buns recipe and try swapping the raisins for dried cranberries or chopped apricots or even some dark chocolate! 
Have you tried making this delicious recipe yet?
Let us know by reviewing it below