Super Easy
Sala syrup is bright red in colour with and taste like sweet aromatic strawberries. It's heavily inspired by the taste of salacca (one of the oldest fruits in the world commonly found around Southeast Asia). It's hard to substitute with another ingredient so we'd recommend getting your hands on a bottle of the real stuff – you can usually find it online!
Also known as Nom Yen (which translates to 'Cold Milk'), this drink originates from Thailand. Popular due to its vibrant pink colour and floral fruity taste, it can be found pretty much at every vendor on the bustling streets. It's super simple to make with just four ingredients - but make sure not to skimp on the ice as this drink is best enjoyed ice cold.
Nutrition and allergy information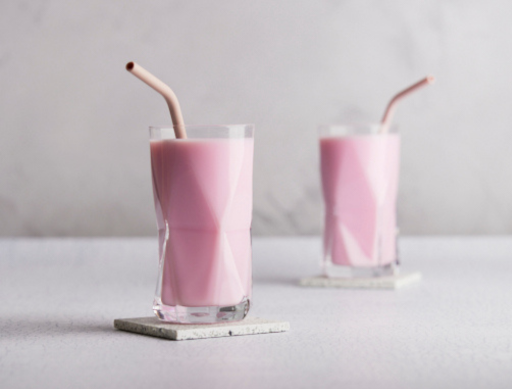 Be the first to leave a review!
---
Step 1 of 3
Add the syrup and sweetened condensed milk to a large glass and mix well to combine. ​
Step 2 of 3
Fill the glass with crushed ice and pop with the semi skimmed milk.
Have you tried making this delicious recipe yet?
Let us know by reviewing it below