Quite Easy
Nutrition and allergy information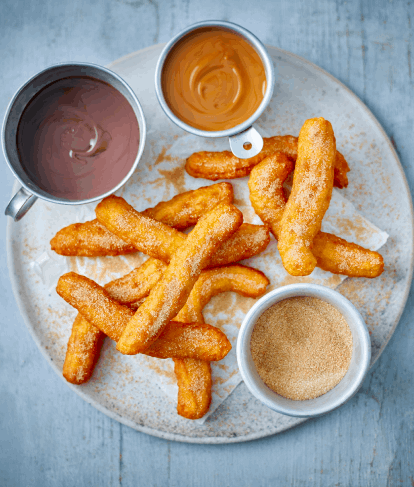 'Everyone loves a fresh churro and dipping these beauts into Carnation caramel made it even better...'
---
A star nozzle (about 1.5-2cm in width)
Step 1 of 7
Pour 300ml of boiling water into a jug and add the melted butter and vanilla extract. Sift the flour and baking powder into a mixing bowl and add the salt.
Step 2 of 7
Make a well into the centre, then pour in the contents of the jug and quickly beat the liquids into the flour with a wooden spoon until it is lump free. Rest for 10-15 minutes.
Step 3 of 7
Fill a large saucepan with deep sides one-third full of oil. Heat until a cube of bread browns in 45 seconds to 1 minute.
To check your oil is hot enough, cut up a slice of bread into cubes. Gently place a cube into the oil and time how long it takes to turn golden brown in colour. If it is shorter that 45 seconds, reduce the heat and allow the oil to cool slightly before continuing.
Step 4 of 7
Whilst your oil is heating, cover a tray with kitchen paper to absorb the excess oil. Mix the caster sugar and cinnamon together in a small bowl.
Step 5 of 7
Fit a star nozzle to a piping bag (around 1.5cm-2cm wide), fill the bag with the rested dough then pipe 2-3 strips of dough directly into the pan. Snip off each dough strip with a pair of kitchen scissors. Fry until golden brown and crisp.
Whilst frying, protect yourself from hot oil by wearing long sleeves and keeping your face away from the pan.
Step 6 of 7
Once the churros are golden brown and crisp, remove them from the oil with a slotted spoon and drain on the kitchen paper lined tray. Sprinkle over some of the cinnamon sugar whilst the churros are still hot.
Step 7 of 7
Once all the dough has been cooked, toss the churros with any remaining cinnamon sugar and serve with the dipping sauces
Have you tried making this delicious recipe yet?
Let us know by reviewing it below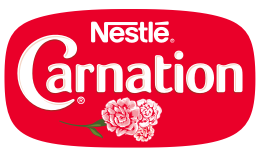 Cinnamon Sugar Churros
PREP: 30 mins

COOK: 30 mins

Quite Easy

SERVES: 10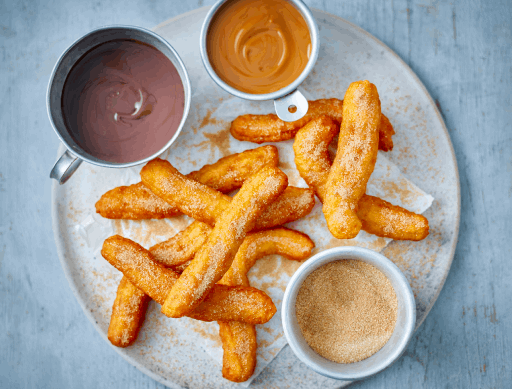 Ingredients

A star nozzle (about 1.5-2cm in width)

Method

Step 1 of 7

Pour 300ml of boiling water into a jug and add the melted butter and vanilla extract. Sift the flour and baking powder into a mixing bowl and add the salt.

Step 2 of 7

Make a well into the centre, then pour in the contents of the jug and quickly beat the liquids into the flour with a wooden spoon until it is lump free. Rest for 10-15 minutes.

Step 3 of 7

Fill a large saucepan with deep sides one-third full of oil. Heat until a cube of bread browns in 45 seconds to 1 minute.

To check your oil is hot enough, cut up a slice of bread into cubes. Gently place a cube into the oil and time how long it takes to turn golden brown in colour. If it is shorter that 45 seconds, reduce the heat and allow the oil to cool slightly before continuing.

Step 4 of 7

Whilst your oil is heating, cover a tray with kitchen paper to absorb the excess oil. Mix the caster sugar and cinnamon together in a small bowl.

Step 5 of 7

Fit a star nozzle to a piping bag (around 1.5cm-2cm wide), fill the bag with the rested dough then pipe 2-3 strips of dough directly into the pan. Snip off each dough strip with a pair of kitchen scissors. Fry until golden brown and crisp.

Whilst frying, protect yourself from hot oil by wearing long sleeves and keeping your face away from the pan.

Step 6 of 7

Once the churros are golden brown and crisp, remove them from the oil with a slotted spoon and drain on the kitchen paper lined tray. Sprinkle over some of the cinnamon sugar whilst the churros are still hot.

Step 7 of 7

Once all the dough has been cooked, toss the churros with any remaining cinnamon sugar and serve with the dipping sauces