Super Easy
Add a little something extra to your fresh fruit with our hot caramel fondue recipe. Perfect slathered on a strawberry or for dunking your favourite fruit. Made with only 2 ingredients, including our Carnation Caramel and Carnation Light Evaporated Milk, you won't believe how easy this hot caramel fondue recipe is to make!
Nutrition and allergy information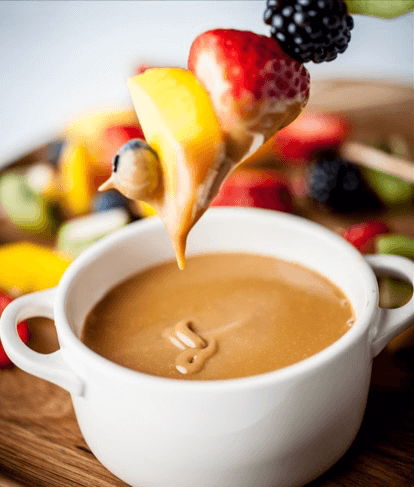 Be the first to review this recipe!
---
Selection of fruit such as strawberries, kiwi fruit and pineapple
Freshly cut fruit on skewers
Step 1 of 3
Scoop the caramel into a small saucepan and mix till smooth. Add the evaporated milk a little at a time whilst stirring till all is incorporated and smooth.
To bring out the flavour in our hot caramel fondue recipe, we recommend adding a good pinch of fine sea salt. If you have a chocolate fountain, this recipe works perfectly - simply adjust the amount of exaporated milk until the mixture flows well through the machine (make sure its already hot before it goes in though).
Step 2 of 3
Slowly heat, stirring all the time until almost boiling. Remove immediately and pour into a small serving bowl.
Step 3 of 3
Cut the fruit into bite size pieces and arrange on skewers, serve alongside the caramel fondue.
Have you tried making this delicious recipe yet?
Let us know by reviewing it below