Super Easy
We all love our classic banoffee pie, but here's one that's a little lighter.  This recipe is still truly delicious but with 30% less calories compared with our Classic Banoffee Recipe. These are very quick to make too!
Nutrition and allergy information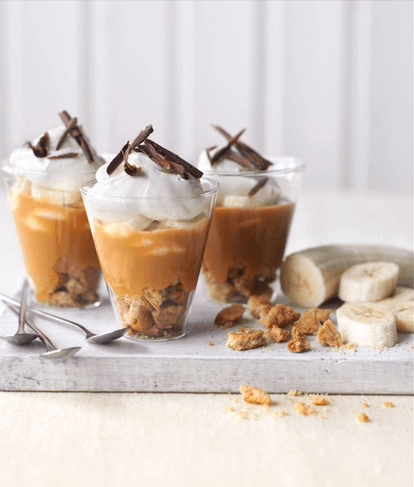 Delicious dinner party delight! I made these on two separate occasions for dinner parties and everyone loved them.
---
Whipping cream, whipped to soft peaks 
Chocolate curls or shavings, to decorate
Step 1 of 3
Crumble the biscuits roughly and divide between 6 little glasses.
Step 2 of 3
Spoon the caramel over the biscuits.
Step 3 of 3
Top each with banana slices. Fold the Greek yogurt into the whipped cream, finish the pots with a blob of the creamy mixture and a sprinkle of chocolate curls. Dive in!
Have you tried making this delicious recipe yet?
Let us know by reviewing it below