Quite Easy
Spoil yourself with a delicious, melt-in-your-mouth dessert with our Baked Chocolate Tart recipe. Made with our Carnation Caramel for a rich and unforgettable flavour that'll have all your dinner guests asking for the recipe! Follow our quick and easy step-by-step guide and you'll be on your way to making our sumptious Baked Chocolate Tart recipe in no time!
Nutrition and allergy information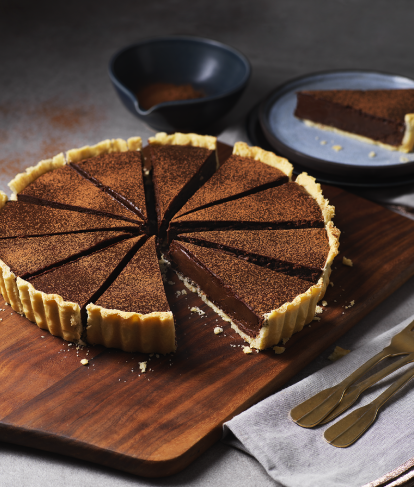 Terrific! I love chocolate tarts and this one was truly decadent! Love the consistency and the flavour.
---
Chocolate, melted and cooled slightly
Step 1 of 4
Preheat the oven to 200°C (180°C for fan ovens) Gas mark 6. Line a tart dish with the pastry and blind bake for 10 – 15 minutes till cooked and beginning to turn golden. Remove from the oven and allow to cool before removing the baking beans.
For a shortcut on making our baked chocolate tart recipe, use a pre-cooked pastry case and skip straight to step 3.
Step 2 of 4
To blind bake: Lightly grease a tart case then line with a thin layer of pastry. Cut a circle of baking paper an inch larger than the tart. Line the pastry with baking paper and then fill with baking beans; this will weigh down the pastry as it cooks. Bake until cooked and turning golden round the edges.
Step 3 of 4
Turn the oven down to 160°C (140° C for fan ovens) Gas mark 3. Add the caramel, chocolate and eggs to a bowl. Mix gently until smooth (avoid making too many bubbles) and pour into the tart case. Gently tap the tart dish on the work surface once or twice to remove any bubbles created - you want a lovely smooth, silky texture!
Step 4 of 4
Place in the centre of the oven for 25-30 minutes or until the filling is set and starting to rise. Remove and allow the tart to cool completely before cutting.
Have you tried making this delicious recipe yet?
Let us know by reviewing it below