Super Easy
Start your day off deliciously with our light and fluffy blueberry pancakes recipe. Perfect for Pancake Day or just as a special morning treat. Made with only 5 ingredients, our blueberry pancakes recipe only takes minutes to make, so they're sure to be a crowd pleaser. Top with a drizzle of golden syrup.
Nutrition and allergy information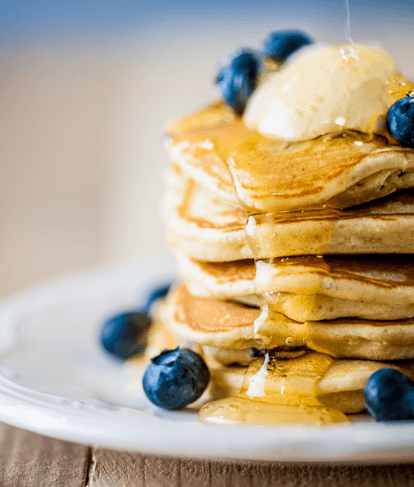 Be the first to review this recipe!
---
Vegetable oil, for cooking
6tsp honey or golden syrup
Step 1 of 3
Sieve the self raising flour into a bowl and make a well in the centre. Add the eggs and evaporated milk and whisk together until smooth.
Step 3 of 3
Pour a little oil into a warm non stick pan and spoon in about a tablespoonful of batter a little at a time. (There should be space for about 3 or 4 at a time depending how big you want them!). Allow the pancake to cook for 2-3 minutes then flip over with a spatula, another 1-2 minutes until golden brown. Lift out onto a plate and cover to keep warm whilst you make the rest. Serve warm with the honey or golden syrup.
Our quick and easy blueberry pancakes recipe is great for a special breakfast (or dessert) - for a delicious alternative, serve warm with slices of banana and 0% fat Greek yogurt or a few slices of fresh ripe nectarine and some toasted flaked almonds.We'd love to hear your comments and questions on this recipe in our review board below..
Have you tried making this delicious recipe yet?
Let us know by reviewing it below