Chocolate Caramel Muffins
Quite Easy
These sticky caramel muffins are a real favourite in the Carnation kitchen. Why not test them out in yours?
Nutrition and allergy information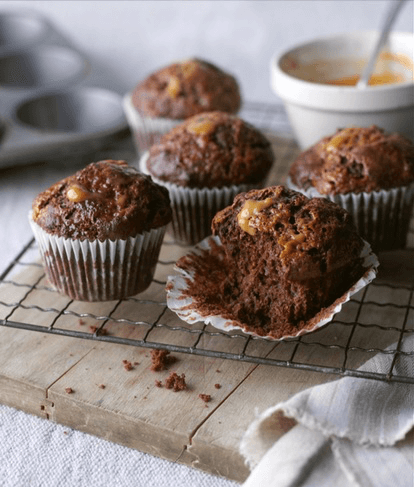 Great muffins! I have hit and miss with muffins but these were lovely. I was glad I read a review about adding chocolate chips!
---
12 hole muffin tin and muffin cases
Step 1 of 5
Preheat the oven to 190°C (170°C for fan ovens) Gas Mark 5.
Step 2 of 5
Mix the flour, sugar, cocoa and baking powder in a bowl.
Step 3 of 5
In another bowl, mix the eggs, milk, oil and a dollop of the caramel. Then, mix this gently into the flour until just combined, don't beat hard (if it looks lumpy its right!).
Step 4 of 5
Gently swirl through the rest of the caramel until rippled.
Step 5 of 5
Place muffin cases in the tin and spoon in the muffin mix. Bake for about 20 minutes, cool slightly then tuck in!
These muffins are scrumptious straight from the oven – perk them up the next day by microwaving for 10 seconds to warm the caramel.
Have you tried making this delicious recipe yet?
Let us know by reviewing it below