Quite Easy
Flavours to remind you of your childhood - we love forced rhubarb for this recipe for its gorgeous vibrant candy pink colour!  Look out for Yorkshire forced rhubarb in the early winter months to brighten up those cold grey days…
Nutrition and allergy information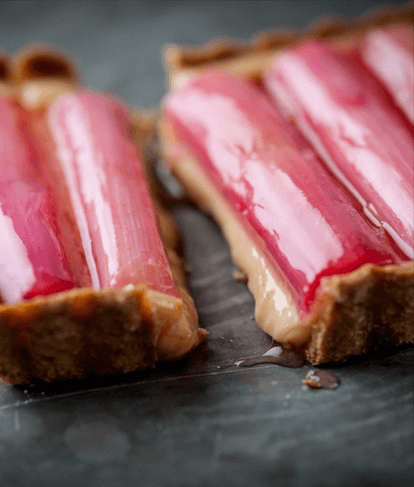 Be the first to review this recipe!
---
1 vanilla pod, or 1 tsp vanilla extract
36 x 12 x 3cm rectangular tart case
Step 1 of 5
Preheat oven to 180°C (160°C for fan ovens) Gas mark 4. Line with sweet the tart case pastry and blind bake until golden (20 mins). Leave to cool.
Step 2 of 5
To make the custard place the milk, vanilla and condensed milk in a saucepan and slowly bring to the boil stirring occasionally, then take the saucepan off the heat. Meanwhile whisk the egg yolks and flours together in a glass bowl with a balloon whisk. Continue whisking and gradually add the boiled milk mixture, a little at a time until combined. Return the whole whisked mixture to the saucepan, bring to the boil and simmer for 1 minute, whisking constantly. Cool for 5 minutes.
Step 3 of 5
Pour the custard into the cooked pastry case.
Step 4 of 5
Cut the rhubarb into equal lengths, to fit the pastry case. Pour the sugar and water into a pan and heat until the sugar has dissolved. Place the rhubarb into the heated sugar and water, allow cooking for 1 minute then turning gently for another minute until the liquid is syrupy and rhubarb tender.
Step 5 of 5
Place the rhubarb gently on top of the custard along the length of the pastry case. Brush with the sugar syrup to glaze. Chill for 1 hour.
Have you tried making this delicious recipe yet?
Let us know by reviewing it below