Bit Tricky
Our rainbow cupcakes recipe is the perfect sweet treat for a special occassion. It's easy to make and combines a vanilla-flavoured sponge with a smooth, sweet topping that's ideal for decorating just how you want. This rainbow cupcakes recipe is a sure hit with young and old alike, and best of all, they're ready in just 5 simple steps. Delicious!
Nutrition and allergy information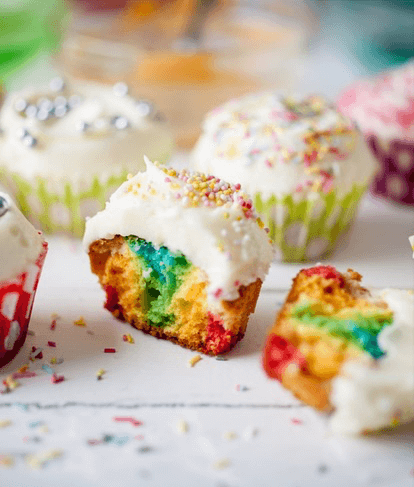 Be the first to review this recipe!
---
Red, yellow, blue, green food colouring (we've found the artificial ones bake better but it's up to you!)
Coloured sugar sprinkles or decorations
*our rainbow cupcakes recipe is based on 70% fat buttery baking spread. 
You will also need...
Coloured cupcake cases and 12 hole muffin tin.
Step 1 of 5
Preheat the oven to 180°C, (160°C for fan ovens), Gas Mark 4.
Step 2 of 5
For the cupcakes: Put the cupcake ingredients in a bowl and beat with an electric hand mixer, until light and creamy. Split the mixture into 5 small bowls and colour each individually (red, yellow, blue, green and natural).
Step 3 of 5
Put the cupcake cases into the tin. Add a teaspoon of each coloured mixture to each case, starting with natural then red, yellow, green and blue. Add each colour to the middle of the last so that they make rings of colour like a rainbow.
Step 4 of 5
Bake for about 15-18 minutes until the rainbow cupcakes are springy. Cool slightly then lift out onto a cooling rack.
Step 5 of 5
For the icing: beat the buttery baking spread, icing sugar and vanilla with an electric beater until light and creamy. Add the milk a little at a time until smooth. Spread over the cool cupcakes and sprinkle with coloured decorations.
Have you tried making this delicious recipe yet?
Let us know by reviewing it below