Quite Easy
Get ready to put the 'boo' in 'bon appétit' this Halloween with our spooktacular cherry pie. So tastefully terrifying, even the ghouls will be saying 'Ghoul-lord, that's good!' 
Nutrition and allergy information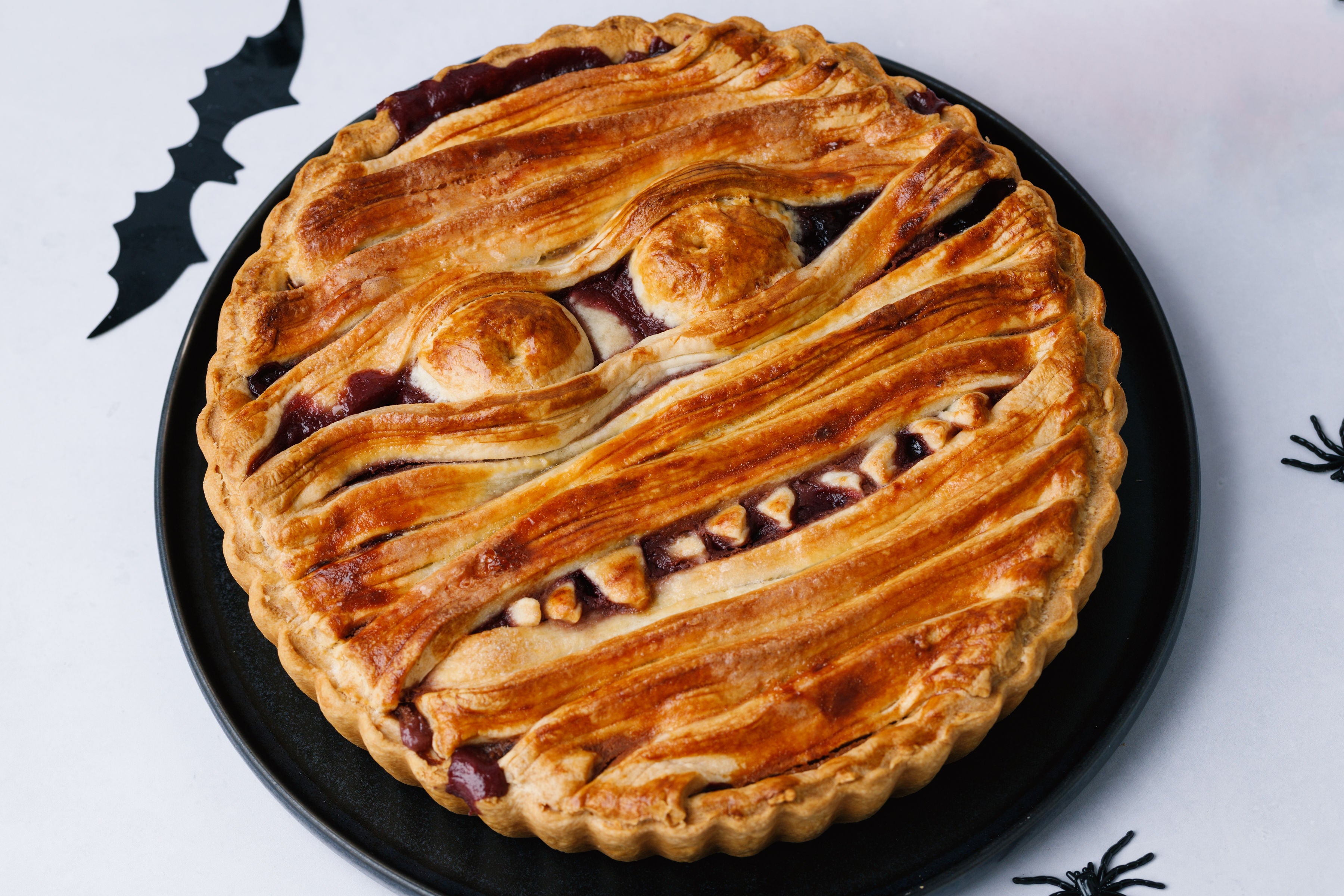 Be the first to leave a review!
---
Readymade shortcrust pastry
23cm (9in) round, fluted, loose-bottomed tart tin
plain flour, for dusting
Step 1 of 9
Preheat the oven to 190°C, 170°C fan oven, Gas Mark 5.
Step 2 of 9
Add the frozen cherries, sugar, cornstarch, lemon zest & juice, vanilla and almond extract to a large mixing bowl and stir together until thoroughly combined. Cover the bowl and pop into the fridge to use later (you can do this up to 24 hour in advance).
Step 3 of 9
Lightly flour a clean worksurface and rolling pin, put 1/3 of the pastry aside to use later and roll the remainder to around the thickness of a £1 coin. 
Step 4 of 9
Line the tin with the pastry, pressing gently into base, sides, and rim. Trim away any excess pastry with a sharp knife then prick the base with a fork and put straight into the fridge until you're ready to bake.
Step 5 of 9
Remove the filling from the fridge and carefully pour the excess juices into a small saucepan. Add the condensed milk and bring to a simmer. Simmer for 2-3 minutes until the juice has thickened and then pour back over the rest of the filling and mix. Spoon the mixture into your pie crust and set aside. 
Step 6 of 9
Roll out the remaining 1/3 of the shortcrust pastry into a circle just slightly larger than your tin. With a sharp knife, cut out your chosen Halloween design using a stencil (or freehand!). 
Step 7 of 9
Brush a little water around the pastry rim and lay the pastry lid over the top of the filling. Press the edges together to seal and trim any excess pastry from the edge with a sharp knife.
Step 8 of 9
Brush the beaten egg over the top of the pastry lid and sprinkle with granulated sugar. Place on a baking tray and bake for 50 minutes until the top is golden brown and the filling is starting to bubble. 
Step 9 of 9
Remove from the oven and allow to cool before serving!
Have you tried making this delicious recipe yet?
Let us know by reviewing it below