Quite Easy
A classic softly set custard hiding the best of the summer's berries and topped with a fabulously crackable caramel top..Make these in advance and keep them in the fridge, then you can glaze the tops with sugar just before serving.  Even better if you have a cooks blow torch! 
Nutrition and allergy information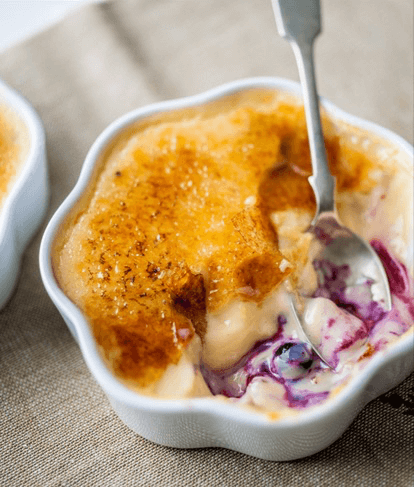 ---
6 x 150ml ramekins for individual portions, cooks blow torch or fearsomely hot grill!
Step 1 of 3
Preheat the oven to 150°C,(130°C for fan ovens), Gas Mark 2. Divide the berries into the ramekins.Place the cream and milk in a saucepan and slowly bring to the boil. Meanwhile, in a large bowl, mix together the egg yolks and condensed milk. Remove the cream and milk mixture from the heat and whisk into the egg yolk mixture. Pour over the berries in the ramekins.
Step 2 of 3
Carefully place the ramekins in a deep roasting tin and fill the tin with enough boiling water to come two thirds up the sides of the dishes. Cover with foil and very carefully, keeping the tin level, place in the oven. Bake for 40 minutes until just set. Carefully remove the tin from the oven.  Leave to cool for 5-10 minutes then transfer the ramekins to a rack to cool completely. Chill well.
Step 3 of 3
To glaze the brûlées: preheat the grill to its highest setting. Sprinkle a thin layer of caster sugar over each dish, ensuring the custard is covered. Place under the grill for about 5–6 minutes until the sugar has melted to a golden brown. Alternatively, use a cook's blowtorch. Cool slightly before serving.
Have you tried making this delicious recipe yet?
Let us know by reviewing it below