Homemade Salted Caramel Magyums
Quite Easy
It might seem odd to add oil to the melted chocolate - but this is the secret to a thin shell on your ice creams.  All chocolates are slightly different so use our quantities as a guide - if the first one is still a bit thick add a teaspoon or two more...
If you've tried our easy no churn ice cream – you got to give these a go! Pour the mixture into moulds then once frozen dip in chocolate – tastes just like the real thing mmm…
Nutrition and allergy information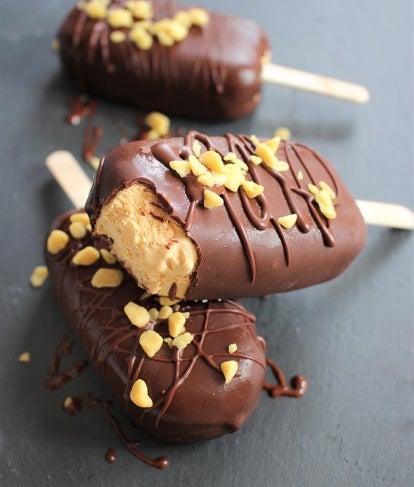 Be the first to review this recipe!
---
Vegetable oil or other flavourless oil
Honeycomb pieces (or nuts or sprinkles)
8 lolly moulds and lolly sticks
Step 1 of 6
Whip the cream until soft peaks form with an elecric hand whisk.
Step 2 of 6
Beat the caramel with the salt and then fold into the whipped cream.  Spoon into the lolly mould and freeze until solid (about 4 hours or overnight).
Step 3 of 6
Melt the dark chocolate in a microwave safe jug in 20 second bursts, stirring each time until completely smooth.  Stir in the vegetable oil (this will help give you a thin coating of chocolate on the ice creams).
Step 4 of 6
Line a tray that will fit into your freezer with baking parchment.
Step 5 of 6
When the ice creams are frozen – unmould them (depending on the moulds you have you might need to dip them into hot water for a few seconds to help release them). 
Step 6 of 6
Dunk the ice creams in the chocolate – gently tilt the jug so that you can cover the whole ice cream easily making sure that you shake off as much excess as you can back into the jug for a nice thin layer of chocolate.  Place the coated ice creams onto the tray.  Decorate one by one as they will set quickly; drizzle with a little extra chocolate and sprinkle with the honeycomb pieces.  Freeze until ready to serve!
Have you tried making this delicious recipe yet?
Let us know by reviewing it below