Super Easy
Look out for natural peppermint extract - they all vary in strength so just add a drop and then keep adding until its slightly too strong.  Flavours are dulled when they're frozen so its best for the ice cream to be slightly sweet and slightly too strong at room temp.
An all time favourite ice cream flavour - we just couldn't resist! You can make it with a fresh mint leaf puree if you like but we like the peppermint extract version and a drop of green food colouring to transport us back to summers of our childhood!
Nutrition and allergy information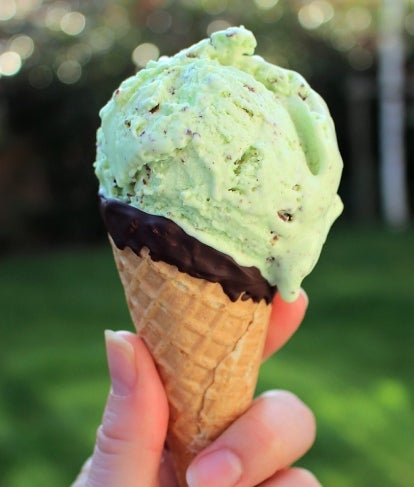 Be the first to review this recipe!
---
Few drops peppermint extract (to taste)
Dark chocolate, finely grated
Step 1 of 3
Whip the cream until soft peaks form using an electric hand mixer.
Step 2 of 3
Stir through the condensed milk and flavour with peppermint extract.  When you're happy with the minty-ness, colour with a tiny bit of green food colouring.
Step 3 of 3
Stir through the grated chocolate and pour into a clean freezer safe container.  Freeze until solid (about 4 hours or overnight).  Leave out for 5-10 minutes.  Scoop and serve!
We like this served in a waffle cone dipped in dark chocolate!
Have you tried making this delicious recipe yet?
Let us know by reviewing it below