Quite Easy
Get ahead of the game... You can make the sponges and freeze them ready to defrost, fill and decorate in a flash!
We made this recipe to celebrate our 120th anniversary in 2019...gorgeous layers of banana cake, caramel and whipped cream – perfect to use up old bananas and great for birthdays and teatime treats. 
Nutrition and allergy information
---
For the cakes:
Caster sugar
For the filling:
Whipping cream
To finish:
Dark chocolate shards (optional)
*recipe is based on 70% fat buttery baking spread
3 x 18cm (7inch) round baking tins, greased and lined with baking parchment
Step 1 of 6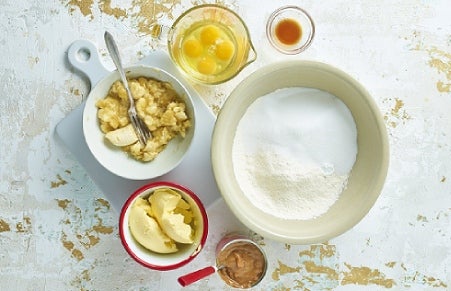 Preheat the oven to 180°C, (160°C for fan ovens), Gas Mark 4. Weigh out and prepare all your ingredients.
Step 2 of 6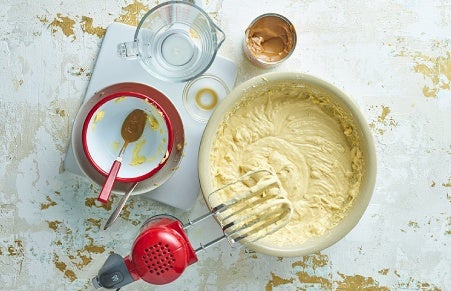 Beat the cake ingredients in a large mixing bowl with an electric hand mixer until light and creamy.
Step 3 of 6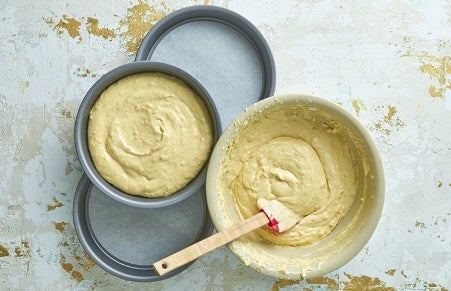 Divide the cake mixture evenly between the cake tins and bake for 20-25 minutes or until springy to the touch and a skewer comes out clean when inserted into the centre of the cake.
Step 4 of 6
Leave to cool for 5 minutes in the tin before tipping out onto a wire rack to cool completely.
Step 5 of 6
Whip the cream and 1tbsp caramel in a large bowl with an electric mixer until softly whipped.
Step 6 of 6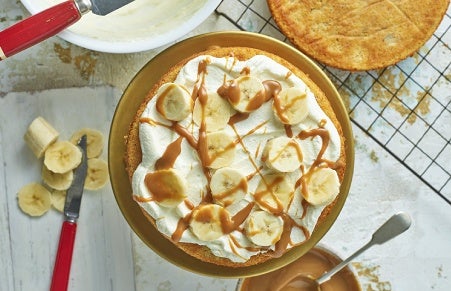 Place one of the sponges onto a serving plate and top with a third of the cream – spreading it out to the edges with a spoon or knife, scatter with a few slices of banana and drizzle with a little caramel. Repeat for the top 2 layers and finish with the chocolate shards if using (see tips).
To make chocolate shards – melt dark chocolate and pour onto the back of a metal baking tray or smooth chopping board. Leave to set then using a large knife scrape the chocolate until it makes curled shards of chocolate.
For a very special treat warm the remaining caramel and serve with the cake or alternatively use the caramel stirred into yoghurt and topped with fruit for a special breakfast idea.
Have you tried making this delicious recipe yet?
Let us know by reviewing it below