Strawberry Cheesecake Loaf
Super Easy
It's time to put those sad looking bananas you've been hiding at the back of the fruit bowl to good use. We've mashed two of our favourite bakes together and created this strawberry summer special, it makes for an excellent addition to any buffet, BBQ or street party table.
Nutrition and allergy information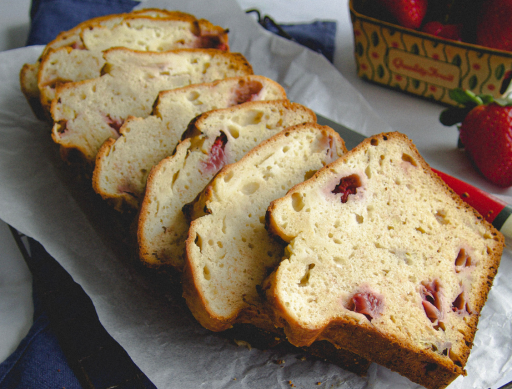 Made this as few weeks ago and it taste so creamy and rich.
---
2-3 overripe bananas (about 260g)
1 tsp bicarbonate of soda
You will also need:
900g (2lb) loaf tin, lined with baking parchment
Step 1 of 6
Preheat the oven to 180°C (160°C for fan ovens), Gas Mark 4.
Step 2 of 6
Add all the cheesecake ingredients into a bowl and mix until everything is combined. Pop into the fridge until ready to use.
Step 3 of 6
Slice the bananas into a bowl and then mash with a fork. Add the condensed milk, egg, buttery spread and mix together gently.
Step 4 of 6
Fold in the flour, baking powder and baking soda. Coat the strawberries in the tablespoon of flour and then gently fold through the banana bread mix.
Step 5 of 6
Pour half of the banana bread batter in the loaf pan. Top the batter with half of the cream cheese filling, one dollop at a time. Top with remaining batter. Top with the remaining cream cheese filling one dollop at a time. Insert a butter knife about halfway into the batter and run through the batter vertically and horizontally to swirl the cream cheese into the banana bread batter.
Step 6 of 6
Bake for 60 minutes, or until a cake skewer inserted into the centre of the loaf comes out clean. Remove from the oven and set aside for 10 minutes. Turn onto a wire rack to cool completely before slicing.
Have you tried making this delicious recipe yet?
Let us know by reviewing it below