Super Easy
This gorgeous creamy lime pie originates from the Florida Keys in America – where small sweet limes grew wild on the islands. Try an indulgent twist on a classic favourite with our chocolatey biscuit base.
Nutrition and allergy information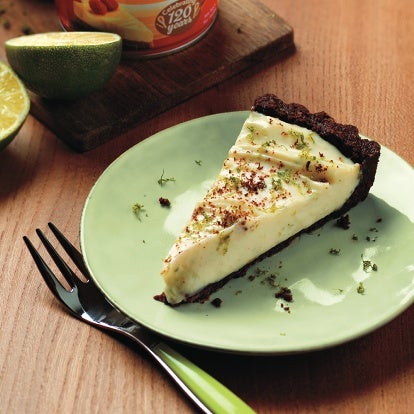 Be the first to review this recipe!
---
Chocolate digestive biscuits
finely grated zest and juice of 5 limes
1 small square dark chocolate, grated
23cm (9in) loose-bottomed cake tin or fluted flan tin
Step 1 of 6
Blitz the biscuits in a food processor to a fine crumb (or put in a sandwich bag and bash with a rolling pin). Tip the crumbs into a bowl with the cocoa powder and mix well.
Step 2 of 6
Melt the butter in a pan (or microwave), then immediately pour it over the biscuit crumbs. Mix well until combined and the chocolate is melted.
Step 3 of 6
Spoon the biscuit mix into the base and up the sides of the tart tin, pressing down evenly to make the base. Chill in the fridge for 10 minutes.
Step 4 of 6
Meanwhile make the filling. In a large mixing bowl, use a balloon whisk to mix most of the lime zest (reserving a little to decorate) and juice with the condensed milk and double cream until you have a smooth, thick mixture.
Step 5 of 6
Remove the tart base from the fridge and spoon in the filling, spreading to the edges and smoothing over the top. Return to the fridge for 1-2 hours until set.
Step 6 of 6
When ready to serve, remove the pie from the tin and place on a serving plate. Sprinkle with the reserved lime zest and a little grated dark chocolate.
Have you tried making this delicious recipe yet?
Let us know by reviewing it below