Quite Easy
Try something different with these gorgeous, zesty, caramel crepes.
Nutrition and allergy information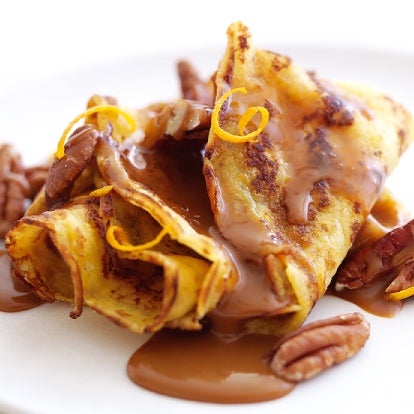 Be the first to review this recipe!
---
Ready-made dessert pancakes
A little butter for greasing
Step 1 of 3
Preheat a grill to medium or turn the oven to 200ºC, 400ºF, Gas Mark 6.
Step 2 of 3
Lightly butter a shallow ovenproof dish. Fold the pancakes into triangles and place into the dish. Scatter over the pecans and the orange juice and sprinkle with a little caster sugar. Grill for about 5 minutes until the pancakes until hot and crispy. Remove from the heat.
Step 3 of 3
Warm the caramel in a small pan and serve.
Have you tried making this delicious recipe yet?
Let us know by reviewing it below