Quite Easy
Serve a yummy treat this Diwali with our Ginger Ladoo recipe. Made with our Carnation Squeezy Condensed Milk, ground almonds and nutmeg, these have a wonderfully sweet and nutty flavour that your friends and family will love. Traditionally served in Indian households during the winter, our Ginger Ladoo recipe makes a perfectly warming snack.
Nutrition and allergy information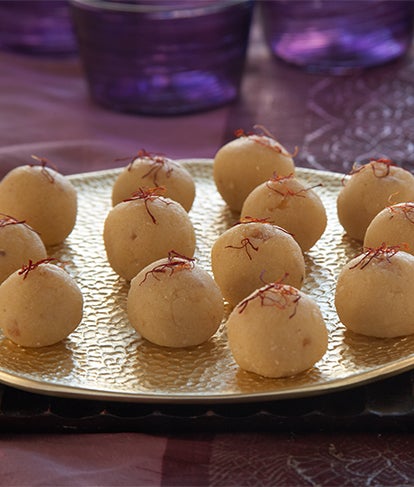 Be the first to review this recipe!
---
Crystallized stem ginger, finely chopped
Step 1 of 2
Heat the butter or ghee in a pan, add the semolina and cook for a few minutes, take off the heat and stir in the remaining ingredients.
Want to switch up your Ginger Ladoo recipe a little bit? Try swapping out some of the ground almonds for some dessicated coconut for a coarser texture and added flavour.
Step 2 of 2
Roll the mixture into 20 small balls and finish with strands of saffron.
Have you tried making this delicious recipe yet?
Let us know by reviewing it below