Quite Easy
Looking for a delicious summer dessert to impress your family/friends? This delicious combination of a shortbread base, creamy cheesecake and fresh cherries is perfect for sharing in Summer!
Nutrition and allergy information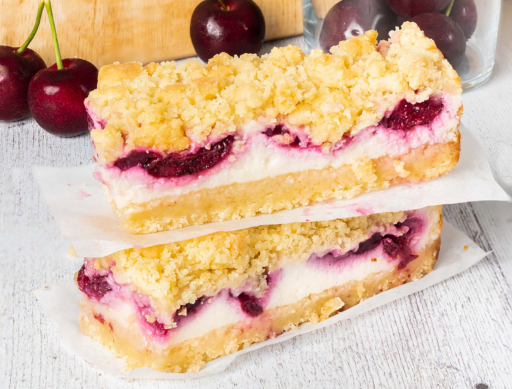 I have made this several times now as my family just keep wanting more. It is so easy and straightforward to make. My best go to...
---
Cherries (frozen or fresh)
For the cheesecake filling:
Step 1 of 4
To make the cherry filling:
place the cherries, sugar, salt and 50ml water in a saucepan. Bring to a gentle boil until the fruit has softened. In a separate small bowl, mix the lemon juice, cornflour and 20ml water. Add to the cooking cherries and cook for a couple of minutes until the mixture has thickened. Remove from heat and leave to cool completely before using.
Step 2 of 4
To make the base:
Preheat the oven to 180C/350F. Rub all the ingredients together in a large bowl until it resembles damp sand. Press about 2/3 the mixture into a lined 8" square tin and bake in the hot oven for 15 minutes until golden.
Step 3 of 4
While the base is baking, make the cheesecake filling. In a fresh bowl, soften the cream cheese then gradually add in the vanilla and condensed milk, whisking until smooth. 
Step 4 of 4
When the base comes out of the oven, pour over the cheesecake mixture. Dollop the cooled cherry mixture over the top and finally sprinkle over the remaining crumble topping. Return to the oven for 30-35 minutes until the topping is golden and the middle has the tiniest jiggle. Cool in tin and chill before cutting and serving.
Have you tried making this delicious recipe yet?
Let us know by reviewing it below