Super Easy
Try these American style fluffy pancakes this Pancake Day, topped with our caramel and slices of banana, perfect for pudding and easy enough to get the kids involved!  We love them for a special breakfast served with Greek yoghurt instead of whipped cream.
Nutrition and allergy information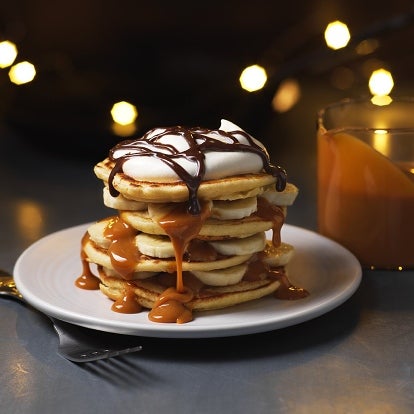 Be the first to review this recipe!
---
Baking spread or melted butter (allowed to cool slightly)
To serve:
Whipped cream (optional)
Chocolate sauce (optional)
Step 1 of 5
Separate the eggs and beat the egg white in a separate bowl until soft peaks form.
This step makes the pancakes extra fluffy but you can skip it if you don't have time! Just beat the eggs together instead.
Step 2 of 5
Add the egg yolk to the milk and beat well.
Step 3 of 5
Mix the flour and baking powder in a bowl, and gradually beat in the milk mixture (it will still be quite thick).  Mix in the melted butter and then fold in the beaten egg white.
Step 4 of 5
Heat a tablespoon of oil in a frying pan and add spoonfuls of the pancake mixture to the pan.  Cook over a moderate heat until the top dries out slightly. Flip the pancakes and cook the other side for about 45 seconds to a minute.
Repeat to cook the remaining pancakes.
Step 5 of 5
To serve, slice the banana and stack the pancakes with slices of banana and caramel and top with the whipped cream and chocolate sauce if using. Dive in..!
Have you tried making this delicious recipe yet?
Let us know by reviewing it below