Quite Easy
Baking a Red Velvet Cupcake recipe is easier than it looks, and we love these vibrant little cakes topped with a luscious cream cheese frosting. The cake base is a chocolatey sponge made with bright red food colouring to give it that gorgeous rich red shade! 
Our Carnation Red Velvet Cupcakes recipe is easy to bake and you can top the cakes with your favourite sprinkles, a few red cake crumbs and red edible glitter to add even more decorations.
Nutrition and allergy information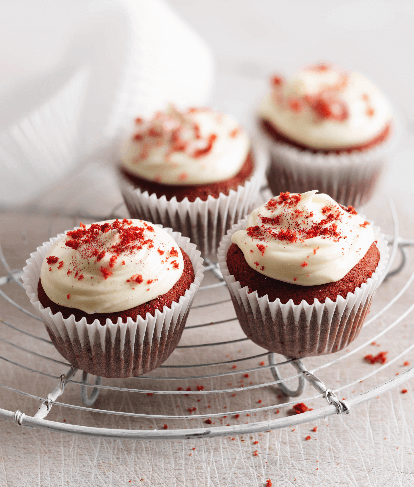 Be the first to review this recipe!
---
Few drops vanilla extract
*recipe is based on 70% fat buttery baking spread.
You will also need...
12 hole cupcake tin and cupcake cases
Edible red glitter (optional)
Step 1 of 4
Preheat the oven to 180°C, (160°C for fan ovens), Gas Mark 4.
Step 2 of 4
Place the cupcake ingredients in a bowl and beat with an electric hand mixer for 2-3 minutes until light and fluffy.
Step 3 of 4
Spoon into the cupcake cases and bake for approximately 15-18 minutes until springy. Cool slightly then transfer to a cooling rack to cool completely.
Step 4 of 4
Beat the icing sugar, butter and vanilla with the condensed milk and cream cheese until very thick and creamy. Spread or pipe onto the cakes and sprinkle with any loose crumbs to decorate!
Why not top your red velvet cupcake recipe with sliced strawberries for contrasting fruity twist?
Have you tried making this delicious recipe yet?
Let us know by reviewing it below