Bit Tricky
This is a light version of our classic with at least 30% less fat! Slice through a gorgeous crisp meringue top into a limey custard and a crumbly biscuit base. Sharp, sweet and delicious!
Nutrition and allergy information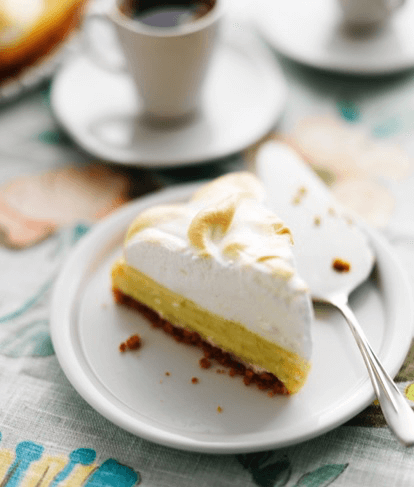 Wonderful recipe! I always have a tin of carnation condensed milk in my cupboard to quickly whip up this pie. Love, love, love it
---
Light digestive biscuits, crushed
Zest and juice of 3 limes
*Recipe is based on 70% fat buttery baking spread. 
18cm round flan or cake tin, greased
Step 1 of 3
Put the crushed biscuit into a bowl with the buttery baking spread. Mix it together thoroughly, then press the mixture into the base of your tin. Chill for ten minutes. Preheat the oven to 180°C, (160°C fan ovens), Gas Mark 4.
Step 2 of 3
Whisk the egg yolks and the condensed milk together, then stir in the lime zest and juice Pour the mixture over the biscuit base and bake for 15-20 minutes until set. Leave to cool then carefully remove from the tin and transfer the pie onto a baking sheet.
Step 3 of 3
With a clean whisk, beat the egg whites to stiff peaks then slowly whisk in the caster sugar until glossy and thick. Pile the meringue onto the pie and spread out, making peaks as you go. Bake for a further 5-6 minutes until browned. Leave to cool slightly before serving.
Now you've mastered this why not try substituting the 3 limes for 2 lemons for a zesty lemon meringue pie. You can make this dessert in advance just stop at point 4, cool and refrigerate until needed. When ready to serve, whisk up the meringue and bake. 
Have you tried making this delicious recipe yet?
Let us know by reviewing it below