Quite Easy
Our Bread and Butter Pudding recipe makes a simple, yet delicious dessert in just 3 easy steps. It's perfect for using up leftover bread slices and is made with our Carnation Evaporated Milk for a smooth and creamy flavour. A family classic, this British favourite is great to make for dinner parties or as a warming family dessert on chilly evenings.
Nutrition and allergy information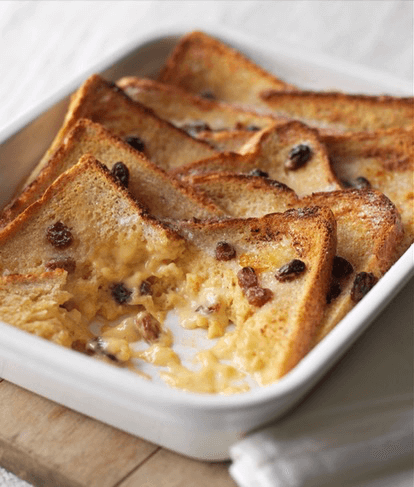 My emergency go to PUD! Always have all the ingredients in the cupboard for this. It has become a firm Family favourite.  
---
Caster sugar, to finish (optional)
Step 1 of 3
Lightly butter the bread and cut each slice in half. Layer the bread and sultanas in the dish.
Step 2 of 3
Beat together the egg yolks, sugar and vanilla, then stir in the evaporated milk. Pour over the bread. Press the bread down lightly and leave to soak for 20 minutes.
Step 3 of 3
Preheat the oven to 180ºC, (160°C for fan ovens) Gas Mark 4. Put the dish in a roasting tin and then pour boiling water into the roasting tin, until about half way up the side of the dish. Bake for 30 minutes.
Want to add a satisfying crunch to your Bread and Butter Pudding recipe? Simply sprinkle the top of the pudding with caster sugar and grill until the sugar caramelises for a crunchy top!
Have you tried making this delicious recipe yet?
Let us know by reviewing it below