Funfetti White Chocolate Fudge
Super Easy
At Carnation we love all shapes, colours and types of sprinkles - there's every kind of theme available in craft stores, supermarkets and online - we'd love to see your variations on our review board!
You can't help but smile when you see our bright funfetti white chocolate fudge! It's so easy to make and is great as a gift or a treat for you and the family.
Nutrition and allergy information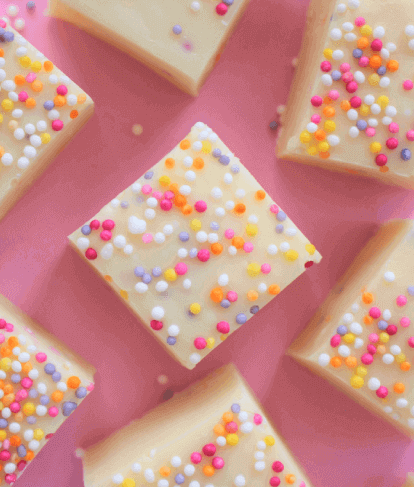 I made this with my reception-class daughter as a lockdown activity. It is easy and safe (no boiling pans of sugar)
---
Step 1 of 3
Break or chop the chocolate into small chunks and place in a non-stick saucepan with the condensed milk.  Melt the ingredients gently over a low-medium heat, stirring occasionally until smooth and silky.  (Alternatively melt in the microwave in 10-20 second bursts, stirring frequently).
Step 2 of 3
Line the tin with baking parchment so that it overlaps the sides (this will help you lift the fudge out once it's set).  Mix half of the sprinkles into the fudge and press into the tin. Top with the remaining sprinkles, pressing them gently into the fudge so that they stick!
Step 3 of 3
Chill the fudge for 1-2 hours or until completely set before cutting.  The fudge will keep in the fridge for up to 2 weeks (if it lasts that long!).
Have you tried making this delicious recipe yet?
Let us know by reviewing it below