Super Easy
If you want your pudding quicker try our condensed milk rice pudding - see the links at the bottom of this page!
Try our heritage rice pudding recipe from our archive, a deliciously creamy taste of your childhood using our Carnation Evaporated Milk! We've kept the imperial measurements in honour of all the great cooks who've loved this recipe over the last 120 years!
Nutrition and allergy information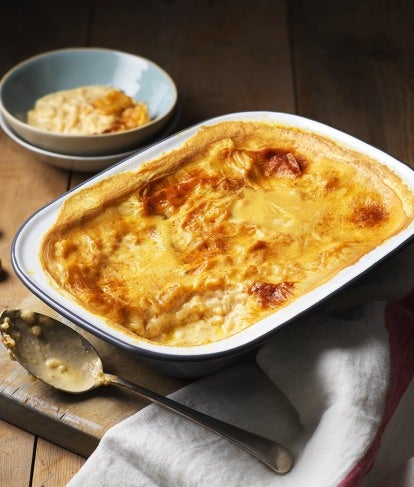 Amazing - loved it. I love rice pudding but adding [evaporated] milk just made it so much better and with a toffee like tone to...
---
Vanilla extract or vanilla bean paste
¼ fresh nutmeg, grated or pinch of ground nutmeg
2pt (1.4Ltr) ovenproof dish, greased
Step 1 of 3
Preheat the oven to 150°C, (130°C for fan ovens), Gas Mark 2.
Step 2 of 3
Sit the dish on a baking tray.  Place the rice and sugar into the dish and pour over the milks and vanilla, stir together and then top with the grated nutmeg.  
Step 3 of 3
Finally top with small blobs of butter and carefully transfer to the oven on the middle shelf for 2 ¼ hours.  Stir the pudding after about 45 minutes.  
We love the skin on the top but if you prefer you can cover with foil to prevent this.  Did you know you can also put your rice pudding in a slow cooker – cook on HIGH for 3 ½ hours.
Have you tried making this delicious recipe yet?
Let us know by reviewing it below