Bit Tricky
Time to celebrate all things sweet with our buttery toffee recipe – a lovely creamy and chewy treat that kids little and big will be sure to enjoy. Our Butter Toffee is a great gift for any occasion… Look out for different sugar decorations for Christmas!
Nutrition and allergy information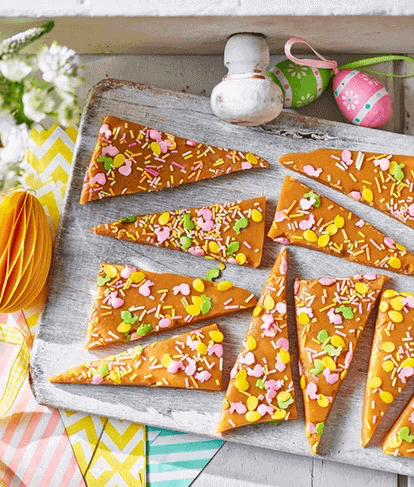 This is my go-to recipe. I love the fudge it makes I heat it to 117 on a thermometer for perfect results every time.  
---
Sprinkles and sugar decorations
18cm square tin, lined with baking parchment
Step 1 of 3
Place all the ingredients except the sprinkles and sugar decorations into a large non-stick saucepan and melt over a low heat, stirring until the sugar dissolves.
Step 2 of 3
Bring to the boil then simmer for 10-15 minutes, stirring continuously and scraping the base of the pan. Take care while the mixture boils and during stirring as the toffee will be VERY hot! To see if it's ready, drop a little of the mixture into a jug of ice-cold water. A soft ball of toffee should form. Alternatively, check with a sugar thermometer if you have one (the toffee should be approximately 114°C).
Step 3 of 3
Pour into the prepared tin and whilst still warm top with the sprinkles and sugar decorations. Place in the fridge to set before cutting into triangles.
Have you tried making this delicious recipe yet?
Let us know by reviewing it below