Quite Easy
We love the rhubarb you get in early January with its bright pink colour and subtle flavour. Deliciously cool Greek yogurt is mixed with cream and lemon for a smooth, zesty taste. Our rhubarb fool recipe requires very little work, yet it tastes as good as it looks – why not serve after dinner for an impressive dessert?
Nutrition and allergy information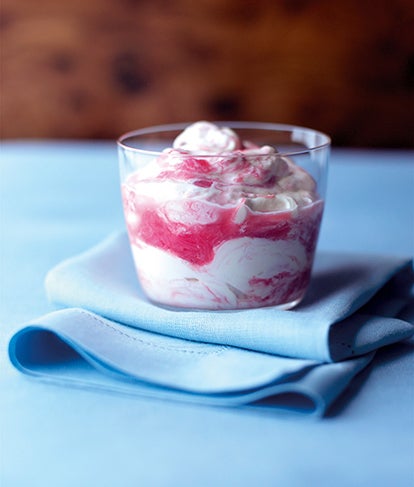 Be the first to review this recipe!
---
Forced fresh rhubarb, washed and cut into 2.5 cm pieces
Step 1 of 3
Cook the rhubarb in a stainless steel or non-stick saucepan with the sugar, lemon juice and 1 tsp vanilla extract until the rhubarb is softened, thick and pulpy. Allow to cool completely.
Step 2 of 3
Whisk together the cream, condensed milk and remaining vanilla to form soft peaks. Fold in the Greek yogurt. Gently ripple the cooled rhubarb into the cream, making swirls of bright pink rhubarb in the creamy mixture. Delicious!
Have you tried making this delicious recipe yet?
Let us know by reviewing it below