Quite Easy
Who can resist a chocolate fondant pud with its gooey, chocolatey centre? These can be kept in the fridge until needed. If cooked from chilled, bake for 12 minutes.
Nutrition and allergy information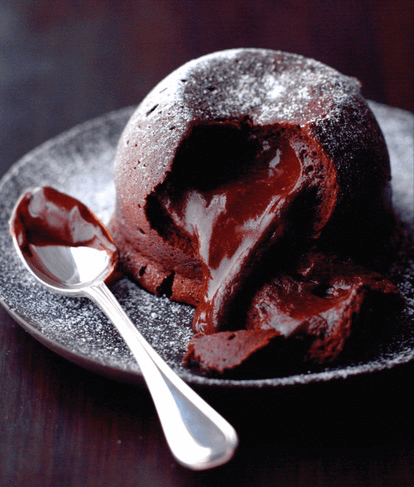 So easy! I was amazed how simple these were to make and the compliments I got from everyone, they are delicious - everyone asked...
---
Nescafé Espresso coffee powder, dissolved in 1tbsp boiling water
Plain or Italian 00 flour
*Recipe is based on 70% fat buttery baking spread
Step 1 of 4
Preheat the oven to 200°C, (180°C for fan ovens), Gas Mark 6. Place a large baking sheet into the oven. Grease the pudding basins, line the bases with a small circle of baking paper and dust each with cocoa powder.
Step 2 of 4
Whisk the buttery baking spread and condensed milk together until pale and creamy (use an electric hand whisk if you have one). Gently whisk in the eggs, a little at a time, followed by the vanilla and coffee mixture. Add the melted chocolate and mix thoroughly, then add the flour and whisk until smooth.
Step 3 of 4
Divide mixture evenly between the pudding basins and bake in the oven for 10 minutes on the hot tray.
Step 4 of 4
To serve, quickly run a knife around the edge of the puddings to un-stick, and turn out onto plates.
Have you tried making this delicious recipe yet?
Let us know by reviewing it below