Raspberry Ripple Angel Cake
Quite Easy
We think that this fun and fruity cake is great for weekend baking!
Nutrition and allergy information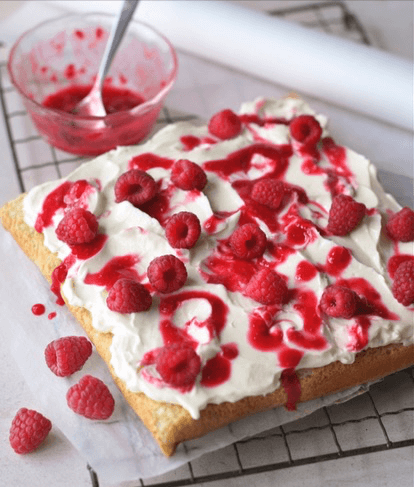 Be the first to review this recipe!
---
Punnet fresh raspberries (or frozen and defrosted)
23cm square cake tin, lined with baking parchment
Step 1 of 5
Preheat the oven to 180°C (160°C for fan ovens), Gas Mark 4.
Step 2 of 5
Whisk the sugar, eggs and the vanilla on a high speed with an electric hand mixer until very light and fluffy. Sift in the flour and salt and fold until combined (try to keep in as much air as possible!) Pour the mixture into the tin and bake for 15-18 minutes. Cool in the tin for 10 minutes and then lift the cake out, peel away the paper and cool completely
Step 3 of 5
Pour the condensed milk into a bowl and add the lemon zest and juice (it should thicken). Beat in the soft cheese.
Step 4 of 5
Place half the raspberries into a small bowl and mash with a fork until very juicy (you can add a drop of water to help this along).
Step 5 of 5
Spread the creamy frosting on top of the cake and then drizzle with the raspberry sauce. Top with the rest of the raspberries and serve.
Have you tried making this delicious recipe yet?
Let us know by reviewing it below