Super Easy
Warning: this will make your kitchen smell simply delicious. Swirl cinnamon and vanilla through our white chocolate fudge to create mouthfuls of autumnal joy. 
Nutrition and allergy information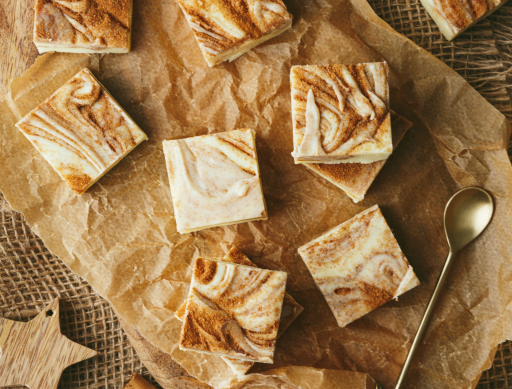 This fudge is beautiful. If you like cinnamon, you will not be disappointed. It has all the Christmas feels about it. I put...
---
20cm square tin, lined with baking parchment
Step 1 of 5
Break or chop the chocolate into small chunks and place in a non-stick saucepan with the condensed milk. Melt the ingredients gently over a low-medium heat, stirring occasionally until smooth and silky. (You can also melt it in the microwave in 10-20 second bursts, stirring frequently).
Step 2 of 5
To make the cinnamon sugar, mix the cinnamon and sugar together in a small bowl.
Step 3 of 5
Allow the mix to cool for five minutes then gently swirl through the cinnamon sugar with a spatula.
Step 4 of 5
Press the fudge into the tin and smooth over the top with the back of a spoon.
Step 5 of 5
Chill in the fridge for 1 hour or until set, then cut it into squares.
TIP: Store the fudge in an airtight container in the fridge for up to two weeks or you can freeze it (the fudge won't 'freeze' solid but it will keep for up to 1 month like this).
Have you tried making this delicious recipe yet?
Let us know by reviewing it below