Super Easy
You want us to put all of your favourite things about summer in to a no bake cheesecake? Roger that. A crunchy biscuit base with a smooth and creamy zesty orange filling. Topped off with beautiful summer fruits and finished with a generous drizzle of Pimms syrup. Now, anyone for tennis? And cheesecake?
Nutrition and allergy information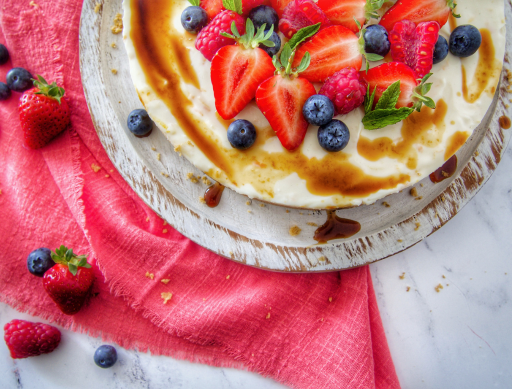 Enjoyed making this one but REALLY enjoyed sharing it with the family. A beautiful looking and great tasting light cheesecake...
---
Light digestive biscuits, crushed
Buttery baking spread, melted
20cm loose bottomed cake tin
Step 1 of 4
Tip the crumbs into a bowl, add the melted baking spread and mix in. Spoon the crumbs into the tin and press down. Chill for 10 minutes.
Step 2 of 4
Pour the condensed milk into a large bowl, add the cream cheese and mix together with an electric hand held mixer on the slowest speed, until smooth. Be careful not to overbeat as the mix will get very runny and impact the final setting of the cheesecake. Once the mix is smooth, add the lemon juice and orange zest and gently fold in with a spatula or wooden spoon until the mixture starts to thicken up. Pour the mix on top of your biscuit base and pop in to the fridge for a minimum of 2 hours but preferably overnight.
Step 3 of 4
For the Pimms syrup: combine all the ingredients in a small saucepan and bring to the boil for 5 – 10 minutes or until it has reached syrupy consistency.
Step 4 of 4
When ready to serve, remove the cheesecake from the tin and place onto a serving board or plate. Top with the summer berries and mint, then drizzle over the Pimms syrup
Have you tried making this delicious recipe yet?
Let us know by reviewing it below