Super Easy
Enjoy a taste of your childhood with our quick and easy Coconut Ice recipe. All it takes is four ingredients, including our delicious Carnation Condensed Milk and a bit of time in the fridge - there's absolutely no cooking involved! 
 
Nutrition and allergy information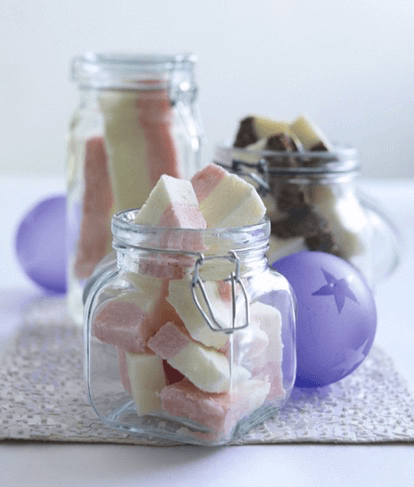 A favourite treat! So easy to make, I covered mine in milk chocolate, a winner all round!
---
Tiny drop natural red food colouring
Step 1 of 3
Mix together the condensed milk and icing sugar. Stir in the coconut (mixture should be very stiff) and divide in half. Colour one half of the mixture pale pink and keep mixing until you have an even colour.
Step 2 of 3
Double-line a small plastic box with baking parchment or cling film before placing the white coconut ice in the bottom, pressing it into a bar shape. Form the pink coconut ice into a similar shape and press firmly together.
Step 3 of 3
Chill in the fridge for 1-2 hours or until firm, then cut into squares. You can leave this at room temperature to set but it will take longer. Keep in an airtight container ideally in the fridge and use within 2 weeks.  Perfect to make with children for school fairs or presents... Dress them up in a glass jar or fancy box with a bow on top for a beautiful homemade gift..      
Now you've mastered the original try a chocolatey twist to your coconut ice recipe.. Try making adding melted dark chocolate into one half of the mixture.                                                                                                      
Have you tried making this delicious recipe yet?
Let us know by reviewing it below