Bit Tricky
Delicious banana and caramel rolled up in banana sponge and sprinkled with chocolate.
Nutrition and allergy information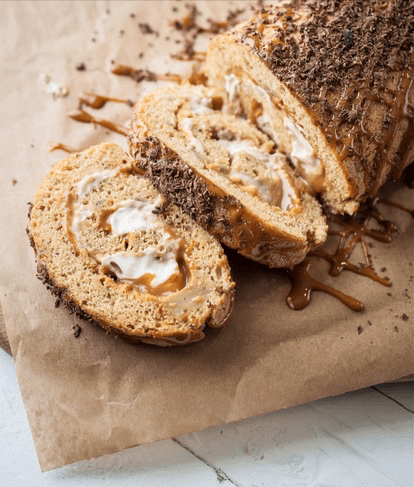 Tastes yummy! Made this for family gathering but it vanished before it got there, excellent and so good
---
Baking tray 30 x 25 cm lined with parchment
Step 1 of 6
Preheat the oven to 180°C (160°C for fan ovens) Gas Mark 4. To make the sponge, sieve the self-raising flour. Crush 1 banana with 2 tablespoons of caramel using a fork. Beat the eggs and sugar with an electric beater until light and fluffy.
Step 2 of 6
Fold the flour into the egg a third at a time until incorporated, and then fold though the crushed banana and caramel.
Step 3 of 6
Pour the sponge mix onto a lined baking sheet and bake for 10 minutes until browned and springy to the touch.
Step 4 of 6
Sprinkle with a spoonful of caster sugar and tip onto a piece of parchment then roll tightly and leave to cool.
Step 5 of 6
In the meanwhile whip the cream until stiff peaks form. Crush the second banana and fold through the cream.
Step 6 of 6
To assemble unroll the sponge and spread a thin layer of caramel over inside. Then spread the creamed banana over the first third of the sponge as you reroll the sponge the cream will be pushed along to fill the whole roll. Drizzle the remaining caramel over the log and grate the chocolate to decorate.
Have you tried making this delicious recipe yet?
Let us know by reviewing it below