Knickerbanoffee Glory Ice Cream Sundae
Super Easy
If you want to make lots of these in one go (and if you have room in your freezer) scoop balls of ice cream onto a lined baking sheet and re-freeze.  Then you can lift them off easily and drizzle, sprinkle and squirt cream like they do in the diners!
Knickerbocker glory - a dessert so fondly remembered from our childhood! We've given the recipe a banoffee make-over - great for sharing and so impossibly easy to make!
Nutrition and allergy information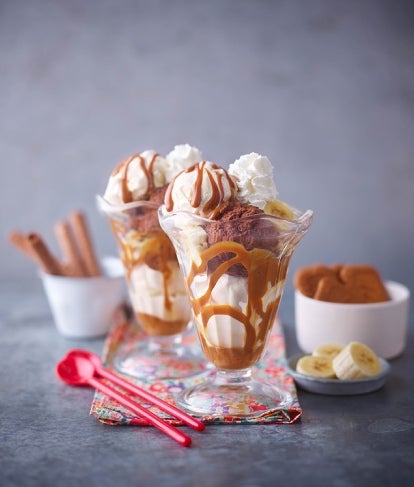 Be the first to review this recipe!
---
To make 1 sundae (to share)
Peanut or caramel ice cream
Caramelised biscuits, crushed
You will also need:
a tall sundae glass or tumbler and a long spoons
Step 1 of 2
Drizzle half or the Carnation Caramel Drizzle inside the sundae glass or tall tumbler.
Step 2 of 2
Layer up the remaining ingredients, topping with a squirt of cream, a slice of banana and a finishing drizzle of caramel sauce.  
For extra indulgence finish with a scattering of grated chocolate or add a ice-cream biscuit to dunk!
Have you tried making this delicious recipe yet?
Let us know by reviewing it below