Baked Raspberry Cheesecake
Bit Tricky
If you've never tried a baked cheesecake and think it's tricky – then this is the recipe for you! Simple and so delicious we think this is our best baked cheesecake yet!
Nutrition and allergy information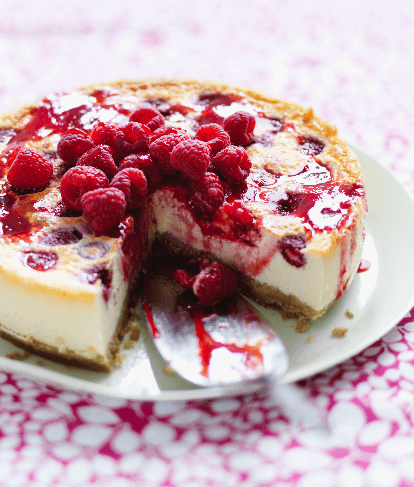 Such a simple summer dessert - so quick and easy to make with the creaminess of Carnation combined with fresh picked raspberries!
---
Light digestive biscuits, crushed
*Recipe is based on 70% fat buttery baking spread.
20cm spring-form cake tin.
Step 1 of 5
Preheat the oven to 180°C, (160°C for fan ovens), Gas Mark 4. Double wrap the outside of the cake tin in foil.
Step 2 of 5
Mix together the crushed biscuits and melted baking spread. Press into the base of the tin and chill for 10 minutes.
Step 3 of 5
Beat the cream cheese until soft in a food processor (or with an electric hand mixer). Gradually add the condensed milk and then add eggs, half fat crème fraiche and vanilla. Beat until very smooth. Gently pour the mixture over the set biscuit base. Scatter in half the raspberries (150g).
Step 4 of 5
Sit the cheesecake in a roasting tin. Pour very hot water into the roasting tin to come halfway up the sides of the cake tin. Bake in the centre of the oven for 1 hour. Turn off the oven, without opening the door, and leave for 1 hour to set. Cool and then chill for 4 hours or overnight. Remove from the tin and place on a serving plate. 
Step 5 of 5
To serve: Keep a handful of the remaining raspberries to decorate and tip the rest into a small pan with 1tbsp icing sugar and 1tbsp water. Mash the raspberries with a fork, bring to the boil then pass through a sieve to remove the seeds. Serve the cheesecake with the sauce and remaining raspberries.
Have you tried making this delicious recipe yet?
Let us know by reviewing it below