Carnation Celebration Cake
Quite Easy
Celebrate all things British with this gorgeous berry-topped cake, filled with strawberry jam and spread with a rich buttery icing. Perfect for picnics, street parties or to brighten up a rainy day!
Nutrition and allergy information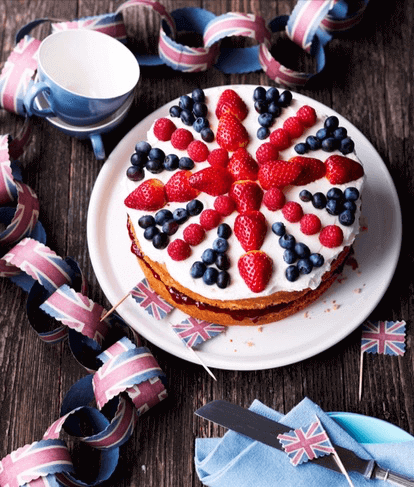 Be the first to review this recipe!
---
Strawberry conserve or jam
Mixed summer berries, to decorate
*Recipe based on 70% fat buttery baking spread
2 x 18cm sandwich cake tins, base lined with parchment
Step 1 of 5
Preheat the oven to 180°C (160°C for fan ovens), Gas Mark 4.
Step 2 of 5
Beat all the cake ingredients in a bowl with a wooden spoon (or an electric hand mixer) until pale and creamy.
Step 3 of 5
Spoon the cake mix into the tins and spread out. Bake for about 25-30 minutes until springy and golden. Cool in the tins for a minute, and then turn out on a cake rack.
Step 4 of 5
When cool, put one cake half onto a plate and spread with the jam. Sandwich together with the other half.
Step 5 of 5
Beat the icing sugar, buttery baking spread and vanilla with a few drops of water to make a thick icing. Spread on top of the cake. Put berries on top in a Union Jack shape if you like!
Have you tried making this delicious recipe yet?
Let us know by reviewing it below