Super Easy
These are definitely going to put a pep in your step. Buttery crumble biscuits with a smooth and sharp lemon filling. A lovely afternoon treat, best served with a cup of tea.
Nutrition and allergy information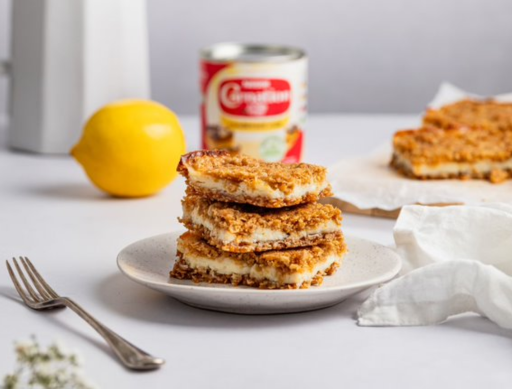 Be the first to leave a review!
---
Unsalted butter, room temperature and cubed

 
20cm square baking tin, lined with baking parchment
Step 1 of 6
Preheat the oven to 180°C/160°C fan/Gas Mark 4.
Step 2 of 6
In a large bowl, combine the flour, oats, brown sugar, salt, baking soda, salt, and softened butter. Gently mix with a fork until the mixture resembles breadcrumbs.
Step 3 of 6
Add half the crumble mixture to the bottom of the baking tin and press into an even layer. Bake for 10 minutes until golden brown. Remove and allow to cool.
Step 4 of 6
Add the condensed milk to a medium-size bowl and pour in the lemon juice and lemon zest. Mix gently until the mixture has thickened (be careful not to over mix as the mixture will loosen).
Step 5 of 6
Spread the creamy lemon mixture on top of the base using a spatula to spread into an even layer. Sprinkle the remaining crumble mixture on top of the lemon cream and bake for 20-25 minutes or until the top is golden brown and around the edges.
Step 6 of 6
Remove from the oven and allow to cool before slicing into bars.
Have you tried making this delicious recipe yet?
Let us know by reviewing it below