Halloween Spider Cupcakes
Quite Easy
Spook your friends this Halloween with our yummy webbed treats with a gorgeous chocolate top covering a soft orange sponge.
Nutrition and allergy information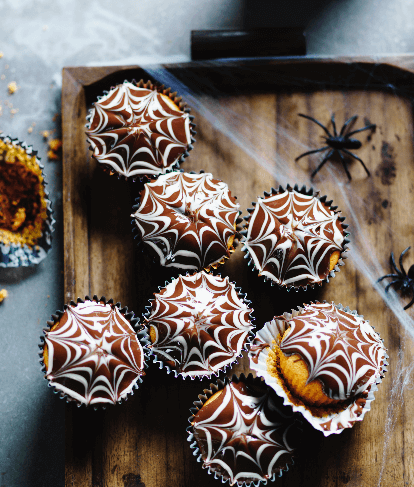 Be the first to review this recipe!
---
Natural orange food colouring (or a mixture of red and yellow)
*Recipe is based on 70% fat buttery baking spread 
12 hole cupcake tin and cupcake cases, cocktail stick, small piping bag
Step 1 of 4
Preheat the oven to 180°C, (160°C for fan ovens), Gas Mark 4.
Step 2 of 4
Place the flour, 250g Carnation condensed milk, egg, orange zest, 85g buttery baking spread, baking powder and food colouring into a bowl.     
Step 3 of 4
Spoon into the cases and bake for approximately 15-18 minutes until springy to the touch. Cool slightly then transfer to a cooling rack to cool completely.
Step 4 of 4
Break the milk and dark chocolate into one bowl and melt gently in the microwave, then add the butter (this will help the chocolate stay soft once set). Melt the white chocolate in a separate bowl (take care not to let it get too hot!). Fill a small piping bag with the white chocolate. Spread each cooled cake with the dark/milk chocolate then pipe white chocolate in rings on top of the cakes with one dot in the very centre. Use a cocktail stick to drag the white chocolate from the centre dot out to make web shapes! Happy Halloweeeen!
Have you tried making this delicious recipe yet?
Let us know by reviewing it below