Quite Easy
Try our gorgeous coconut cake drizzled with zingy lime icing - perfect with tea or packed up for a picnic!
Nutrition and allergy information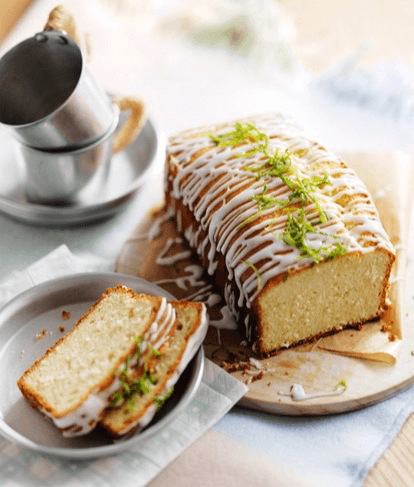 Showstopper!! I've made this so many times and it has always been amazing. My husband to have as buns and it worked out a treat!
---
Buttery baking spread*, softened
Finely grated zest 2 limes
Long strands lime zest and juice 1 lime
*Recipe based on 70% fat buttery baking spread.
900g loaf tin lined with baking parchment
Step 1 of 3
Preheat the oven to 170°C, (150°C for fan ovens), Gas Mark 3.
Step 2 of 3
Whisk the cake ingredients in a large bowl until pale and creamy (use an electric hand whisk if you have one). Pour into the tin and bake for 55-65 minutes spring and cooked through. (If the top becomes too brown cover the cake with a piece of parchment). Cool the cake slightly then remove from the tin to cool completely.
Step 3 of 3
For the icing – simply mix enough lime juice into the icing sugar until you have a thick pouring consistency – drizzle over the cake using a spoon or piping bag and finish with strands of lime zest.
For a super fresh taste – microwave a slice of cake for 10 seconds to have that warm from the oven effect!
Have you tried making this delicious recipe yet?
Let us know by reviewing it below