S'mores Bread and Butter Pudding
Super Easy
This recipe is such an easy and oh so delicious dessert for bonfire night and a perfect winter warming pudding!
Nutrition and allergy information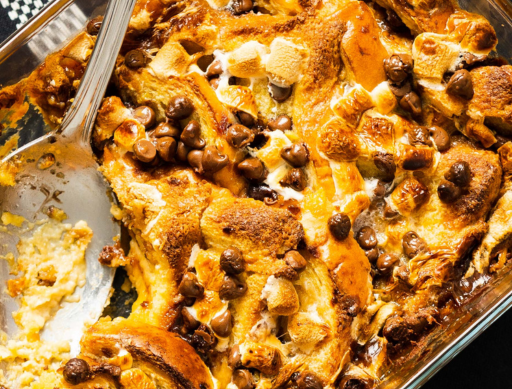 Be the first to leave a review!
---
Unsalted butter, to butter the bread
Step 1 of 4
Butter bread on both sides, then slice into triangles. Arrange in an oven safe dish.
Step 2 of 4
Sprinkle over most of the chocolate chips and marshmallows.
Step 3 of 4
In a jug, mix together the yolks, sugar, vanilla and milk. Pour custard over the bread. Sprinkle over remaining chocolate and mallows, pressing down to help bread absorb liquid. Leave to sit for at least 20 minutes.
Step 4 of 4
When ready to bake, preheat the oven to 180C/350F. Bake for 25-30 minutes. Sit for a few minutes before serving.
Have you tried making this delicious recipe yet?
Let us know by reviewing it below