Chocolate Strawberry Mini Cheesecakes
Quite Easy
Our Chocolate Strawberry Mini Cheesecake recipe was developed in collaboration with Movers & Bakers.
Nutrition and allergy information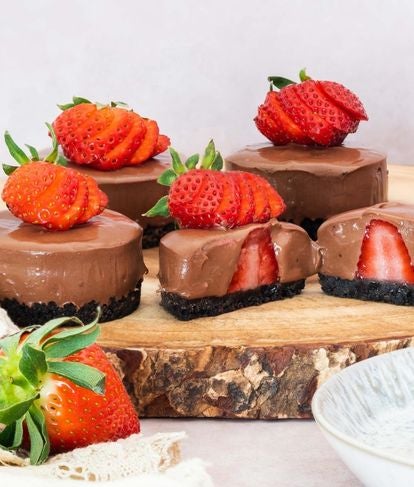 We ate them all before I could take the photos... we will definitely make them again.
---
Sandwich cookies (such as Oreos), crushed
Strawberries, plus extra to decorate
Step 1 of 5
Put the crushed biscuits into a bowl with the melted butter. Mix it together thoroughly, then press the mixture into the base of individual cupcake tins (mine has loose bottoms, so use parchment paper or cupcake liners if yours doesn't). Chill for 10 minutes. 
Step 2 of 5
Cut the top off the strawberries and place cut side down on top of each biscuit base. 
Step 3 of 5
Add the cream cheese and condensed milk to a large bowl and mix together gently (be careful not to overmix!) Drizzle in the melted dark choc and fold in until everything is evenly combined.
Step 4 of 5
Transfer the mix to a piping bag and pipe over the strawberries. You don't need a nozzle for this - simply cut the end of the piping bag off. Pop in the fridge to chill for 2 hours or until set.
Step 5 of 5
When ready to serve, gently remove the cheesecakes from the tin and serve with a strawberry fan for decoration. These will keep for a couple of days in the fridge in an airtight container 
Have you tried making this delicious recipe yet?
Let us know by reviewing it below