Summer Strawberries & Cream Cake
Super Easy
Letting your strawberries hang out together for a bit (with the aid of a little bit of caster sugar) not only helps them network but also produces the most fabulously fruity juices. Top your cake with freshly whipped cream then pile the strawberries on top and drizzle over all that strawberry deliciousness.
Nutrition and allergy information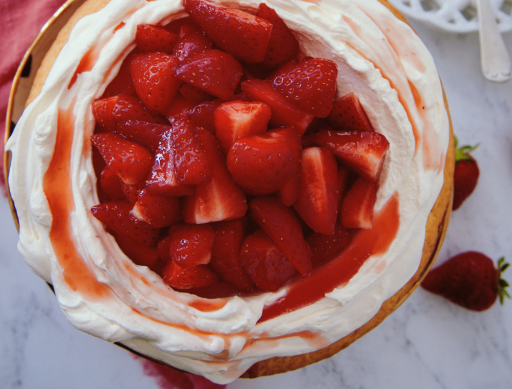 Be the first to leave a review!
---
20cm cake tin, lined with baking parchment
Step 1 of 7
Pre heat the oven to 160c fan, 180c electric or Gas Mark 3
Step 2 of 7
Add flour and baking powder to a large bowl and mix well to combine. 
Step 3 of 7
Mix all the wet ingredients and fold gently into the dry ingredients using a spatula – be careful not to over mix!
Step 4 of 7
Pour the batter into the lined pan and cook for 40-45 min or until a skewer inserted into the middle comes out clean.
Step 5 of 7
Remove from the oven and transfer to a wire rack to cool in the tin
Step 6 of 7
Whilst waiting for your cake to cool, chop the strawberries into quarters and place in a bowl. 7. Sprinkle over the caster sugar and mix gently to combine. Cover and pop in the fridge until ready to use (they can be kept in the fridge for up to 12 hours).
Step 7 of 7
When ready to serve, whip the cream to soft peaks and spoon carefully on top of the cake. Create a dip in the middle and fill with your macerated strawberries & all the lovely strawberry juices. Enjoy!
Have you tried making this delicious recipe yet?
Let us know by reviewing it below