Quite Easy
Perk up your flapjack with berries, cherries and seeds! This easy fruity flapjack recipe is a great teatime treat. There's nothing complicated involved, just a bit of melting and mixing.  Made with our Carnation Condensed Milk and packed with energy - this Fruity Flapjack will be the new go-to snack for everyone in the house.
Nutrition and allergy information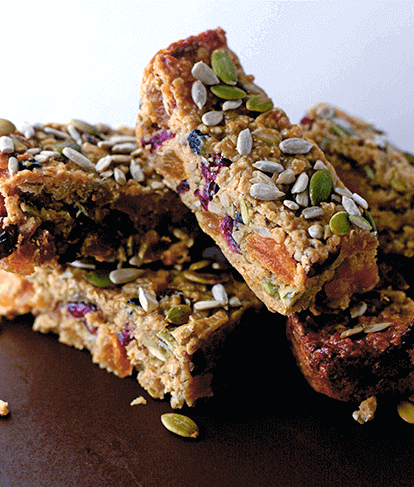 Really good flapjacks! This is a brilliant recipe. I've made it a couple of times and those that tasted them went on to make more...
---
Dried cranberries and cherries (40g each)
Ready-to-eat apricots, sliced
*Recipe is based on 70% fat buttery baking spread
18 x 28cm baking tin lined with baking parchment
Step 1 of 5
Preheat the oven to 180°C (160°C for fan ovens), Gas Mark 4.
Step 2 of 5
Melt the buttery baking spread and sugar in a large saucepan over a low heat. Add the condensed milk and golden syrup.
Step 3 of 5
Remove from the heat and stir in the oats, dried fruit and half of each of the seeds.
Step 4 of 5
Press the mixture into the prepared tin and lightly press on the rest of the seeds, bake for 25-30 minutes until golden. Allow to cool and then cut into 16 bars. Keep in an airtight container.
Step 5 of 5
Allow to cool and then cut into 16 bars. 
If you want to keep your fruity flapjacks in tip-top condition for longer, store them in an airtight tin. 
Have you tried making this delicious recipe yet?
Let us know by reviewing it below