Quite Easy
Want to try something different this Pancake Day? Try our toffee apple pancakes - these take minutes and are sure to be a family favourite!
Nutrition and allergy information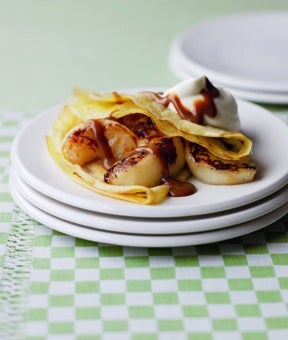 ---
Sunflower oil for frying (optional)
Carton half fat crème fraîche, to serve
Step 1 of 4
To make the pancake batter, beat the flour and the eggs together with a little of the milk, until smooth and then gradually add the rest of the milk.
Step 2 of 4
Heat a 20cm (8") non-stick frying pan. Brush sparingly with a little oil and pour in a ladelful of the batter. Immediately swirl and tilt the pan to create a thin, even layer. Cook until golden around the edge and dry in the centre, about 45 seconds. Carefully flip the pancake over and cook for a further 15 seconds. Turn out onto a plate. Repeat with the remaining mixture.
Step 3 of 4
Peel and core the apples and slice thickly. Melt half the butter in a frying pan and fry the apple slices in batches until golden brown on all sides.
Step 4 of 4
To serve, reheat each pancake, and fill with apples, crème fraîche. Beat the caramel to a sauce and drizzle over the pancakes.
Have you tried making this delicious recipe yet?
Let us know by reviewing it below