Quite Easy
A well loved classic! We've lightened up this truly indulgent dessert which would normally use mascarpone cheese.  No beating of egg whites either - so super simple too.You could make one large Tiramisu and serve with some fresh peaches and raspberries.
Nutrition and allergy information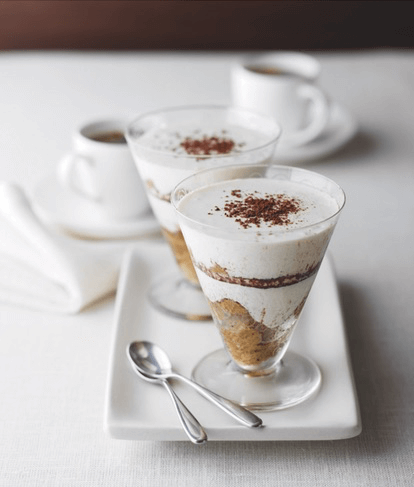 Very easy and delicious! Tried this out and have to say it was even more delicious than the original recipe. A real winner!
---
Natural vanilla extract (not essence)
Step 1 of 3
Dissolve the coffee granules in 2tbsp boiling water. Tip into a large shallow dish with the coffee liqueur and the cold water. Mix together.
Step 2 of 3
Beat the cream cheese with the condensed milk and vanilla.
Step 3 of 3
Dip one sponge finger into the coffee mixture until soaked. Break the sponge into the bottom of one of the glasses. Top with a generous spoonful of the creamy mixture and a generous sprinkling of cocoa. Repeat the layers once more, finishing with the cocoa dusting. Use the remaining mixture to fill the other 3 glasses. Chill for at least 1 hour before serving.
Have you tried making this delicious recipe yet?
Let us know by reviewing it below