Super Easy
Throw together a delicious dessert in 20 minutes with our Easy Red Berry Eton Mess recipe. This simple pudding brings a tantalising combination of lemony cream, crunchy meringue and sweet berries for flavour that's sure to impress. Made in just 4 simple steps, our Easy Red Berry Eton Mess recipe is perfect to serve at summer garden parties or just as an after dinner treat. 
Nutrition and allergy information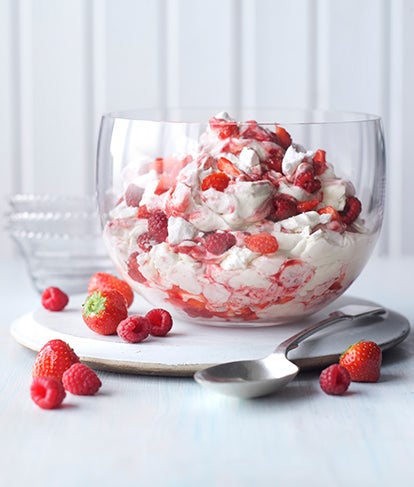 Be the first to review this recipe!
---
Mix of strawberries and raspberries
Ready made raspberry or strawberry sauce
Step 1 of 4
Chop the strawberries and lightly crush the raspberries.
Step 2 of 4
Roughly break the meringues into bite size pieces.
Step 3 of 4
Whip the cream, add the condensed milk and re-whip to soft peaks. Add the lemon juice which should thicken the mixture.
Step 4 of 4
Layer the creamy mixture with the fruit, meringue and sauce into a serving dish and enjoy!
Have left over condensed milk from your Easy Red Berry Eton Mess recipe? Why not use up the rest and make smoothie lollies perfect for summer! 
Have you tried making this delicious recipe yet?
Let us know by reviewing it below