Quite Easy
These are delicious sweet treats, great for a special event like Diwali!
Nutrition and allergy information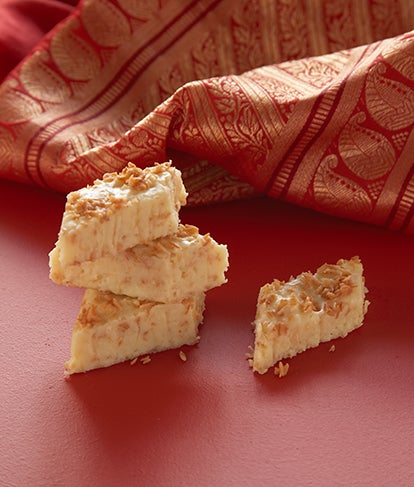 Be the first to review this recipe!
---
Ground cardamom or nutmeg
To finish, toasted coconut
Step 1 of 4
Mix the milk powder and evaporated milk in a bowl until it forms a thick and crumbly paste
Step 2 of 4
Heat the butter over a low heat for a few minutes, stir in the coconut and toast for a few minutes, stirring and watching the mixture to prevent the coconut from burning.
Step 3 of 4
Stir in the remaining ingredients, and the milk mixture. The mix will be solid to start with and will soften as you continue to heat it. Keep stirring until the mixture starts to come away from the sides.
Step 4 of 4
Pour into a non-stick tray, spread to a 2cm (¾") thickness and sprinkle with toasted coconut. To finish, cut into diamonds when cool. Alternatively roll into approx 20 balls and roll in toasted coconut.
Have you tried making this delicious recipe yet?
Let us know by reviewing it below